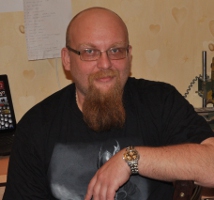 Hello!
My name is Andrey Myakotkin, I'm owner and founder of SIA "A&N Model Trucks". I was born in Moscow, Russia; now I'm living in Latvia.
All my life I was in love with trucks, but I have never drove a real trucks or never had my own real truck, so in 2000 I decided to build model trucks.
I have started from out-box models, then continued with scratch-built conversions and, finally, in 2007 I built my very first kit, KamAZ-54112. I was not satisfied with quality of that kit and took a break. After 3 years I have returned to business with some new projects and ideas, and founded A&N Model Trucks.
SIA "A&N Model Trucks".
Register number: 43603050850 (link to database of Latvian companies).
VAT number: LV43603050850
Bank account: LV89RIKO0002930122414
in AS DNB Bank, Skanstes iela 12, Riga, LV-1013.
SWIFT Code: RIKOLV2X
Postal address:
SIA "A&N Model Trucks",
"Zalinieki", Vecumnieku pag., Vecumnieku novads,
Bauskas rajons, LV-3933, Latvia.